Delivering roses for Valentine's Day
Roses and Valentine's Day are inextricably linked. As a result, Surprose has many bouquets specially designed for Valentine's Day. This way, you can be sure to give a beautiful bouquet of roses to your loved one on the special day.
A specific number of Valentine's Day roses
Is this the 15th Valentine's Day together and do you want to give a beautiful and personalised gift? Then you can order your own number of roses at Surprose. For this, you can choose different kinds of roses. Often red roses are given on Valentine's Day, but at Surprose you also have other beautiful colours of roses.
For example, you have the bright pink Revival roses or the XXL roses called Sophia Loren. You can also choose a different symbolic meaning with the number of roses. You can go all out with 365 roses, for example. This shows that you think of someone every day and that you cannot live without them.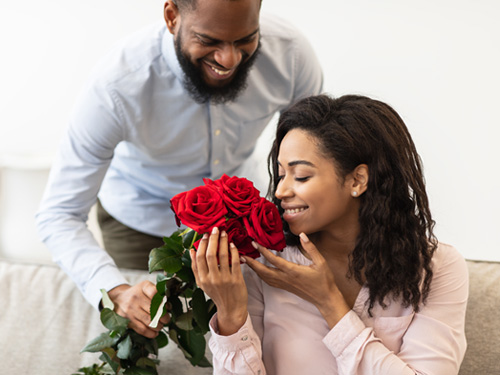 ---
---
Different types of roses for Valentine's Day
As mentioned, there are many different types of roses perfect for Valentine's Day. Below are some benefits that are perfect for your loved one:

Valentine's Day rose care
If you received a beautiful bunch of roses for Valentine's Day, of course you want to enjoy them for a long time. Here are some handy care tips to help you maximise the vase life of your rose bouquet. When you receive the roses, it is important to remove them from their gift packaging as soon as possible.
Then take a glass vase of the right size and clean it well. This way, as little bacteria as possible remains in the flower vase, causing the roses to wilt sooner. It is also wise to use a glass vase, as it has no grooves in which the bacteria can "hide".
Then add lukewarm water in the vase with our rose food. Top up this water regularly as roses need a lot of water. Change the water and rose food after a week for best results!
Surprise empoyees on Valentine's Day
It is also great fun for companies to surprise your colleagues or employees. At Surprose, for example, you can have red roses packaged individually to hand out on the shop floor. This way, you show that you appreciate the people and hope they have a nice day. It is also nice for schools, for example, to have students hand out roses. Surprose's roses are great for this because of their long stems and beautiful buds.