Sale!

Including Lindt heart
Roses for Her
Gift her some roses to show your appreciation, your love or simply because you feel like it! Why should there be a specific day in the year to tell your loved one how special she is to you? Surprose roses are the perfect way to let her know how much you love her. Selected with care by our specialists and packaged in a beautiful Surprose box to give her an unforgettable experience. Surprose not only offers the most beautiful, but also the most unique roses.
Roses for women
Would you like to send a bouquet of roses to a woman, but you're not sure what bouquet it should be? Then this is the place to be. Here we have selected a number of bouquets from our collection that will especially appeal to women. Do you want to say that you love her or that she is such a good friend and you appreciate her friendship so much? But also to put your (mother-in-law/step-), aunt or grandmother in the spotlight. Roses are always a perfect gift for women.
Give roses with or without occasion
Why should you have a special day to tell someone how special she is to you? Therefore, roses from Surprose are a perfect way to let her know that she is very special. Selected with love by our specialists to give her an unforgettable wow moment in the box from Surprose. At Surprose you will find not only the finest red roses, but also very special roses, such as rainbow roses, XXL roses and roses from Ecuador. At Surprose you will find the ideal surprise for that special woman in your life.
When you've found the perfect bouquet of roses for her you can leave her a message in the text field. Tell her why she deserves these beautiful roses and let her know from whom she received these special roses. Her rose bouquet will be wrapped in beautiful paper and tied with a ribbon in the box, so the roses arrive fresh and not damaged. Your personal message will be in the free card, which will be added in the box. Surprise her with a beautiful bunch of quality roses from Surprose!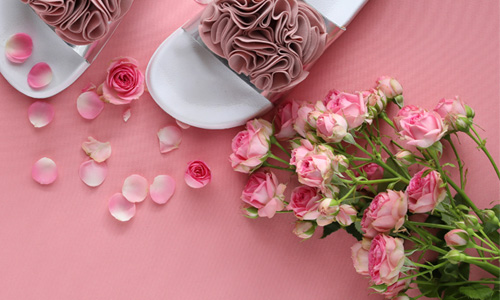 Roses with gifts for women
If you would like to give something extra with your gift of roses, you can also order beautiful gifts from Surprose that are included in the beautiful gift packaging. On Valentine's Day, for example, you can have a cute teddy bear delivered along with a bouquet of red roses. Surprose also has delicious Tony's Chocolonely chocolate in its range. So you can make the experience of receiving roses even more fun for your girlfriend, wife or mother. Would you rather give a bottle of champagne with a beautiful bouquet of roses? Surprose has a wide range for that too. Go to the Champagne page for all types of champagne.
Pink roses for women
Would you like to thank a woman in your life for something she has done for you? Then pink roses are perfect. After all, these roses represent the gratitude you have for someone. For example, you can give a beautiful bunch of pink roses to congratulate someone or just to say thank you for a nice time together. Surprose has a beautiful premium pink rose in its range, namely the Sophia Loren. This XXL rose has beautiful long stems, allowing it to stand beautifully in the vase for a long time. So perfect as a gift for someone you want to thank!