sale!

sale!

sale!
Red Roses
Send red roses - a sign of love. Surprose offers different sizes and types of red roses for order.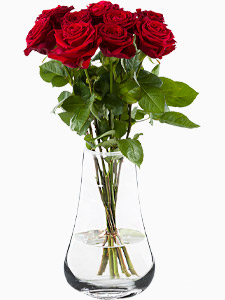 Order Fresh Red Roses Online
If the rose is considered the queen of flowers, then the red rose is without doubt the queen of roses. The classic for every romantic. Roses are a valued gift for any occasion, but red roses are ideal for truly special moments. Especially as a gift, because red roses speak the language of love. Give your loved ones a smile with a hand-tied bouquet of roses from Surprose. If you order online today, the roses will be delivered in Germany, the Netherlands and Belgium as early as tomorrow.
Select the Number of Roses In Your Bouquet
Red roses can be ordered from Surprose as hand-tied bouquets in all imaginable sizes. There are no limits to the number of red-coloured stems in the bouquet. So you decide how many roses should be included in your bouquet! 10 and 20 roses are generally a beautiful testament of love, which also makes them perfect as a romantic birthday gift. Other quantities, such as 30, 40, 50, 60, 70, 80, 90 or 100 are ideal for round birthdays. The Surprose team goes one step further, however. On our website we offer the option to order the exact number of red roses for your bouquet. The binding and shipping of a bouquet of, for example, 27 or 33 roses is no problem for our florists. Alternatively, a single rose can be ordered individually as part of a high-quality gift set including a matching crystal glass vase. We can ship any quantity as a hand-tied rose bouquet. Starting from 10 roses and going up to 500 roses, we can create many beautiful bouquets. In other words, we leave nothing to be desired when it comes to our red roses.
Large-Flowered Red Naomi Varieties
The Red Naomi is a large-flowered and special rose of top quality. What characterises the Red Naomi are the deep red and large rose heads. In addition, the stems of the Red Naomi grow up to 65 centimetres long. These high-quality Red Naomi roses are cultivated by Meewisse Roses. This is a grower with whom we have close contact to guarantee the best quality.  The Red Naomi is a special rose, suitable as a romantic gift. In addition to the Red Naomi and our EverRed rose, the Grand Prix rose is also a high-quality rose. We will always opt for Red Naomi or EverRed bouquets first. In some cases, we may opt for Grand Prix roses. Don't worry though, this is a top quality rose too!