The Avalanche Sweet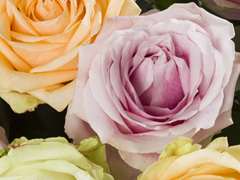 A very beautiful soft pink rose. The pink variant of the Avalanche rose has a deeper pink colour on the inside than on the outside. But when the rose is opened in a vase, the colour becomes an even soft pink. It is a full rose with a lot of volume, the bud of this flower can reach up to 7 cm in diameter. If you really want to enjoy a stylish rose, then this is definitely a good rose to choose! The stems are long, they have few thorns and they are also very strong roses! The Avalanche rose is of very high quality and will look great in the vase.
This rose is grown in the Netherlands by v. d. Berg Roses! Fun fact: Japanese quail (birds) walk around in the greenhouse at Berg Roses to ensure that the roses are not damaged by insects and other critters. These critters can of course carry bacteria that are not good for the roses. So nature is fought with nature here and not with more poisonous substances!
Our bouquets
We have used this rose in several bouquets, to create a wow-effect. And it works! This rose looks very nice with several other rose colours, because the Avalanche Sweet has such a soft colour. So you can combine it with other colours in your home, but also with other colours of roses! And to fully enjoy the beauty of an Avalanche rose, we also have a mix of the three Avalanche roses in one rose bouquet. Here you will find the white, salmon and soft pink Avalanche roses. To make this classic mix a little more playful, we also include a few branches of eucalyptus. A classic, yet playful bouquet!
It may not surprise you, but this rose is often used in bridal bouquets and as a decoration at weddings. The soft hues and the shape of the petals make this a very popular rose. Especially since the pink rose is the symbol of romance, softness, gratitude, child birth and tenderness. That makes this rose also suitable for occasions like birthdays, a birth, or to thank someone for something. It is the gesture that counts! And with these roses the gesture will certainly come across. Would you also like to see the white and salmon coloured Avalanche roses? You can! These colours can also be ordered per piece. Then you can decide entirely what your bouquet will look like.
Do you have any feedback for us, or are you missing any bouquets from our range? If so, please let us know. Also, if you have a special wish for your bouquet of Avalanche Sweet roses, we can always have a chat about it. Then we can always see what we can do for you.
Our Sweet Avalanche rozen: