The Sarah Bernhardt Peony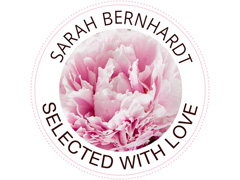 Generally speaking, when talking about peonies, this variety comes to most people's minds. This is, after all, the most well-known peony worldwide. Everybody knows this peony. It is therefore not surprising that this variety is the most sold of all peonies in our range. The soft pink colour of the peony in combination with the many petals makes the peony extremely popular. Our Sarah Bernhardt peonies have a stem length of about 50 cm, the flower bud can grow between 10 and 20 cm when in flower. We send this peony when it is still fresh and in the bud, they appear very small then. It is therefore important to give her some space in the vase, because once in flower they become really big.
The origin of the peony
This Sarah Bernhardt peony was created by Victor Lemoine, a Frenchman in 1906. Mr Lemoine named this beautiful peony after an actress who was very famous in those days. This actress was also originally Dutch! But because she did not know who her father was and that was not considered normal at the time, Sara Bernardt added an H to her first and last name. With this, she wanted to keep the attention away from her unknown father and make it seem more French. France is also where she performed a lot and started a rich career. Mr Lemoine even won prizes for this peony and for naming it after Sarah Bernhardt!
A double-flowered peony
The Sarah Bernhardt is a double-flowered peony. But what does that actually mean? You have probably seen them before, peonies that have 5 to 10 leaves on the outer edge and of which the inside of the peony is filled with stamens, the yellow heart of the peony. These are single flowered peonies. With double-flowered peonies the peony is filled with petals, like the Sarah Bernhardt. When the peony blossoms open, leaves can be seen over the entire rosebud, which luxuriantly bloom around the peony. So you can easily see the difference between a double-flowered peony and a single-flowered peony. The Sarah Bernhardt is very popular thanks to the fact that it is a double-flowered peony. A double-flowered peony quickly fills a vase with its petals. It is therefore important when double-flowered peonies are in your home that they get enough space in the vase. When the buds are still closed they look small, but once open you will be amazed at how big the little rosebud has become!
Tips for Sarah Bernhardt Peonies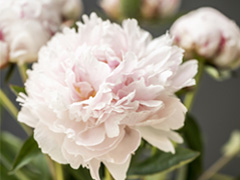 Many people are afraid that peonies will not bloom, especially the Sarah Bernhardt peonies. There is a grain of truth in this. Sarah Bernhardt peonies can sometimes have trouble opening. There is a little test that lets you know how ripe your peony is and whether it will have trouble coming out. Mind you, this test does not guarantee anything, but can point you in the right direction. When you have received your peonies, you can very carefully pinch the bud. Does it feel soft and do the petals on the outside come loose? Then you have ripe peonies that will most likely open without any problems.
If this is not the case for you, we have a few tips that may work, so you can really enjoy your peonies. Peonies do not do well when transported in a box or in the heat. So it is really important that, as soon as you receive your soft pink peonies, you put them in a vase and let them drink. Cut the stems diagonally and put them in a clean vase with a little bag of flower food.
If this doesn't help and the peonies are not placed near a heater, stove, fruit or in a draught, adding a little sugar or soda without too many additives to the water can sometimes help.
Peonies also often have a sugar coating around their buds. You could hold them briefly under a lukewarm tap. Make sure you hold the Sarah Bernhardt upside down under the tap and that no water gets into the peony itself.
You can also read more about the care of roses or about peonies in general here. Peonies are not available all year round. Most peonies can be ordered between April and mid June. The period peonies are available, they will be ordered below. So if you are convinced about these Sarah Bernhardt peonies now, you can order them right away!
Our Sarah Bernhardt peonies: