Business flowers on account
Ordering flowers on account for business is more than obvious at Surprose. We try to relieve our customers in every step of the buying process. From choosing the perfect bouquet with an appropriate gift to the checkout and delivery in our luxury gift box. We are also happy to work with you if you have an out of the box concept in which our roses make the concept complete. Think of personalized/painted roses, roses per piece and personalized packaging, but also large quantities of roses for example for an event.
All exclusive roses from Surprose come directly from the rose grower, through the bindery, in the most sustainable way to your colleague, customer or business partner in the vase. Because we know exactly which rose comes from which rose grower we always sell true to type roses. It also means that our roses are often fresher than when you buy them at the florist. Add to that our unique and extensive range and you order all your roses at Surprose.
Business bouquets:

Business flowers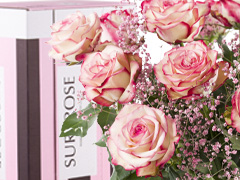 Companies who are looking for a partner for their business orders will be pampered by us. We think along with love when it comes to a creative marketing campaign, recurring birthdays or daily orders. Thanks to our many years of experience, we are able to fulfil the most creative personalisation wishes. Think of the personalisation of the roses themselves, from the unique thank-you card to the packing and delivery of the roses.
Send business flowers
In our bindery it is a true explosion of colours. Thousands of roses in all colours, sizes and varieties are gathered here. An impressive scene. In the bindery, the roses are bound according to the customer's request. This can be a bouquet for a birthday colleague, but also 100 individual roses packed in a personalised water bottle for roses, 25 bouquets of rainbow roses or a bouquet with 999 White Avalanche roses for an exclusive customer. Plenty of choice at Surprose!
Most bouquets consist only of roses, but we also compose bouquets with gypsophilia, panicum or eucalyptus. You can find our assortment in our webshop. But when you want to send business flowers, there are of course many more options. If you would like to know more, please contact our customer service, available Mon. - Fri. from 9am to 5pm at +31 541 299 859 and service@surprose.com.
A business gift
Receiving roses is always a gift, whether it is for business or pleasure. This also has to do with the luxurious packaging in which we send our roses. There is always a box that fits the size of the bouquet. We have small narrow boxes for the single roses and of course larger boxes for the larger bouquets. The sender can leave a personal message online, we offer this for free. This message is written on a card, which is placed in an envelope together with 2 bags of cut flower food and care tips. This envelope is fixed to the insert with a closing sticker so nothing will move around in the box and the roses will not be damaged. Then the box is closed and the address label is put on. All these actions are handcrafted and carried out with a lot of love for our roses. The roses can now leave the bindery.
We send all our Surprose boxes to various countries in Europe with DHL, the courier service that runs according to the GoGreen method. DHL delivers the roses as quickly and sustainably as possible to the front door of the recipient.
Business flower delivery
Would you like to order flowers for business purposes and have them delivered? At Surprose you can easily order roses on account. After approval of your file, a customer account will be created, so you can order on account. Surprose has attractive discounts for frequent business customers. Please contact the sales department to discuss the possibilities. We gladly deliver our exclusive roses to staff, business relations, partners or for events.