Granny Day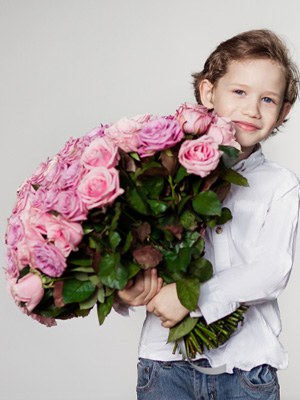 Sunday 9 October is 'Granny Day' in Germany. And on 4 June it is 'Grandpa and Grandma Day' in the Netherlands. On both holidays, grandma is central. On both days, one of the most beautiful roles on earth is celebrated and rewarded. With crafts, sweet cards, kisses and a beautiful bouquet of roses for grandma. Many grandmothers are always there for their (grand)children and naturally deserve a special gift on this holiday. Just like mothers deserve it on Mother's Day. Yet 'Grandma Day' is not as well known as Mother's Day. We think you don't need a special day at all to let your grandma or mother know that you love and appreciate her. Every day is a perfect day to send grandma a beautiful bouquet of pink, white or yellow roses.
Grandma, Granny, Gran or Grams
Becoming a grandma, having a first grandchild, is the start of a new generation. For many grandparents, it is a milestone. They now become grandparents. A title they are proud of and that they like to shout from the rooftops. This does not apply to all soon-to-be grandparents, as today's grandparents are often too young and too fit to be called 'grandma' and 'grandpa'. In recent years, many alternative names have been invented, such as granny, gran and grams. But no matter what you call a grandparent, the special role of 'grandma' remains the same.
Telling her she is going to be a grandmother
Many parents put a lot of time and effort into telling the good news: you're going to be a grandmother! So grandma can be surprised in an original way with the message that a grandchild is on the way. You can surprise her with a beautiful bunch of roses with a unique and personal card. Our roses are the perfect gift in the perfect packaging. We want nothing more than to make receiving a party and we think it is very important to give, in this case, grandma a special feeling. And we think that starts with receiving our unique and luxurious Surprose box. The party continues when unboxing and reading the personal message and then when putting the roses in the vase. Even though the roses disappear after a little over two weeks, the memories of the roses and the surprising message on the personal card will linger much longer.
Use blue roses to express how proud you are that your mother will be grandmother to a boy. Or with our pink Paloma roses that she is getting a granddaughter. Compose a bouquet with pink and blue roses and find out together what the sex of the baby is. At Surprose everything is possible, we like to think along with you.
Grandma turns 80
Will grandma turn 80 soon and you don't have a present yet? Order 80 red roses and give them to grandma on her birthday. You can't come by yourself, but do you want to send something? Or did you forget grandma's birthday and still want to congratulate her? Give a bouquet of roses, that's a good idea for every option. After all, roses love grandmas and grandmas love roses. Order a beautiful bouquet of roses for grandma online, with this you'll never go wrong. All the roses in our webshop come from the best rose growers who lovingly cultivate the most beautiful variety of roses. These roses will bloom and shine in grandma's vase for more than two weeks (provided you take good care of them, read our tips here).
80 red roses for Grandma dear,
Oh, I would love to give them to her.
I would tell her: "Grandma dear,
It's for your birthday please!"
- Wilma Landkroon - 80 red roses (1969) –
Not sure what colour roses grandma likes? Then look at the meaning of the colour and then at the numbers. Incorporate this symbolism together with the message on the personalised card that we offer free of charge.
Looking for the perfect bouquet?
Have you fallen in love with the rose, its symbolism and its many colours and varieties? And have you found the perfect gift for grandma? Then dive into our webshop to find the perfect rose for grandma. Because giving roses as a present is always a good idea. Would you like to add a luxury gift, such as a good bottle of wine or a box of Lindt chocolate, to your bouquet of roses? Our wide range of gifts can be found here.